Free Shipping Domestic $149+ | Canada $299 USD
Crush Unbalance Long Sleeve - Pink
Crush Unbalance Long Sleeve - Pink
A half-high neck with a slim look and sophisticated sense when worn with an uncut long sleeveless with a diagonal cut block and four-collar sleeves.
Recommended time to wear--Spring, Fall
   Hand washes cold separately. Machine wash is not recommended. 
Customer Reviews
04/10/2023
Michelle C.

United States
Tons of compliments when I west this top
I have 2 and would buy more. They are very flattering and I get home of compliments. It's comfortable and washes well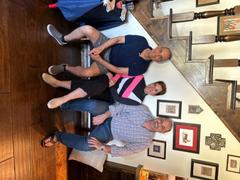 06/26/2023
Nevermindall USA
Hi Michelle! That's wonderful! The Crush Unbalance Long Sleeve in Pink sounds like a great choice. The color pink can add a touch of femininity and vibrancy to any outfit. It's excellent to hear that you find it flattering and comfortable and that it washes well. The fact that you're considering buying more is a testament to how much you enjoy it. Keep rocking that stylish pink vest and enjoy the compliments that come your way! If there's anything else I can assist you with, feel free to let me know. Thank you very much for choosing Nevermindall USA as your shopping destination. Best Regards, Nevermindall USA
08/25/2022
Dawn M.

United States
Love this
It was my first order from Nevermindall and I wasn't sure how this would fit, but it is perfect, and looks amazing on. Looking forward to wearing it this fall.